Hand Soldering, Desoldering & Hot air
Pace, ST300E, Hot Air Station ,Spares & Nozzles
ST 300 Low Cost Hot Air Reflow System, Supplied in NZ with 4028-1002 (5mm curved
nozzle).

The ST 300 can be used to remove any SMD and for installing components with a limited
number of leads that can be positioned manually. Rework Nozzles sold separately,

The ST 300 is a self-contained system with analogy (dial) controls for temperature and airflow.
The heavy-duty, durable metal housing ensures years of service and the sloped face of the
front panel is a standard feature for ease of use.
Other ST systems can be stacked on to the ST 300 to preserve bench space.

Both cycle start and vacuum functions are activated with conveniently located switches on
the handpiece. The ST 300 features the Quiet-Flo turbine for close to silent operation.

Additionally, the system comes with the Lo-Flo pump and the vacuum wand (PV-65) for
manipulating components manually. The capabilities of the ST 300 can be greatly enhanced
when coupled with the ST 500, ST 525, or ST 550.
Optional Nozzle Storage Rack 6019-0072-P1, holds 13 nozzles.

-Lockable Temperature and
-Airflow adjustment knobs
-Automatic shut off for safety
-Functional LED Indicator lights on front panel
-Quiet-Flo turbine blower reduces operating noise
-Hi-Flo Vacuum Pump for holding component securely
-Lo-Flo Vacuum Pump for component wand

Unit: ST 300
Power Requirements: 197-253 VAC, 50/60 Hz, 575Watts max.
Dimensions: 134mm H x 245mm W x 264mm D (5.25" H x 10" W x 10.4" D)
Weight: 4.3Kg (9.5lbs.)
Temperature Control: Closed loop temperature control
Temperature stability: ° 9°C (° 15 °F) at idle tip temp.
Temperature Range: 176°to 482°C (350°to 900°F) nominal
Airflow: 5-22 slap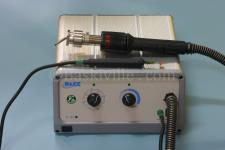 Related Products
Pace, PH100, Low Profile Pre Heater, PCB 1600 Watts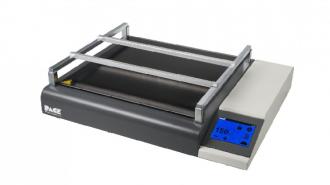 $3,444.86
ADD TO CART >
ChipQuik 4.5Ft Solder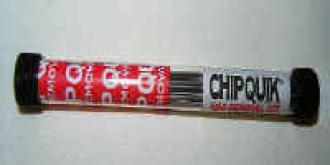 $88.75
ADD TO CART >
Quick PCB Board Holder (Large) without Stand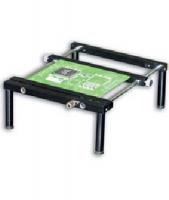 $172.31
ADD TO CART >