Hand Soldering, Desoldering & Hot air
Pace, ST325E, Digital Hot Air Station, Spares & Nozzles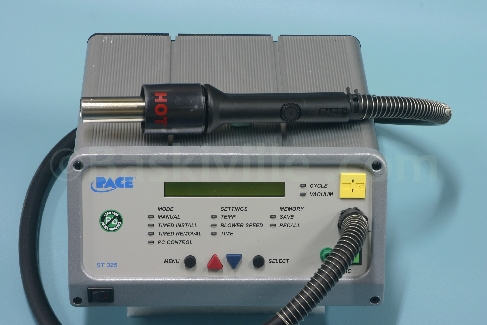 ST 325 Digital Programme Hot Air Reflow System, Supplied in NZ with a 5mm Curved nozzle 4028-1002

The ST 325 is a digital, self-contained system that is fully programmable and can be used to remove or install surface mount components when individual or multiple operations are to be run. From the front panel, the system can be used in either manual or "timed" modes.
Rework Nozzles sold separately,

Manual mode means that the system generates heated airflow when the cycle button is pressed; when it is pressed a second time the system shuts off. "Timed" modes allow the operator to create up to 20 "Profiles" that consist of time and temperatures parameters to
ensure process control and repeatability. Both cycle start and vacuum functions are activated with conveniently located switches on the handpiece.

The handpiece is fitted with an adjustable, spring loaded vacuum pik to lift components from the PCB and to hold the component in the nozzle during alignment. The "give" in the spring loading is set, but the absolute position of the vacuum pik is adjustable over a 1.5" length.

-Multi-level password lock-out prevents unauthorized changes
-User definable temperature zone
-Audible countdown timer for end of cycle indication in the Timed and Program modes
-On-screen display of parameters (temperature, time) during operation
-Store and recall up to 20 profiles (40 with optional software)
-Quiet-Flo turbine blower offers nearly silent operation
-Hi-Flo Vacuum Pump for holding component securely
-Lo-Flo Vacuum Pump for component wand

Power Requirements: 197-253 VAC, 50/60 Hz, 575Watts max.
Dimensions: 134mm H x 245mm W x 264mm D (5.25" H x 10" W x 10.4" D)
Weight: 4.5Kg (9.9lbs.)
Temperature Control: Closed loop, digital temperature control
Temperature stability: ° 9°C (° 15 °F) at idle tip temp.
Temperature Range: 176°to 482°C (350°to 900°F) nominal
Airflow: 5-22 slpm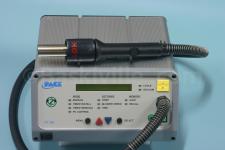 Free shipping in nz for online orders

Phone or online support
mon to fri 8AM to 5PM

40+ years in Business