Hand Soldering, Desoldering & Hot air
Pace, MBT350, 3 Channel Soldering & Desoldering Station, Handpieces & Spares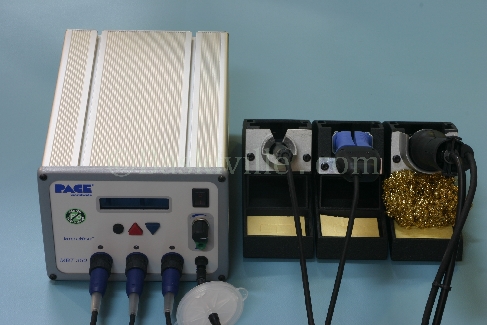 MBT350 Digital Soldering/Desoldering System.

PACE's first generation of "LEAD FREE" manufactured Products.
Tips sold separately

Self contained, three channel capability offers high capacity, low temperature
SMT/Thru-Hole soldering and desoldering. The system is fully programmable
and can be password protected from changes.

The backlit, Digital, LCD screen displays the temperature of all three
handpiece channels or with scan mode activated will cycle through the
handpiece channels one at a time displaying set and actual temperatures.

The new dual purpose vacuum/pressure pump and delivery system featuring
PACE's patented SNAP-VAC Technology, provides the most vacuum
available for desoldering applications. When used with an air pencil,
the high resolution, pressure control valve allows for precise adjustment
when working on the smallest components such as 0201's.

An approved operating range can be programmed allowing operators the
flexibility to do their work while eliminating the risks associated with giving
techs access to the entire temperature range of the system.


To maximise tip life and reduce operating costs, PACE's well recognised "SetBack" & "Auto Off" features are included. The system will automatically reduce the set temperature by 50% then turn off after a user defined period of inactivity.
To really protect your more expensive Tip-Heater Cartridge and fine point tips from oxidation, the TD-100 can be used with the new "Instant-SetBack Cubby". The cubby puts irons channel into SetBack if it is in the cubby for more than 45 seconds! Up to two Instant-SetBack Cubby can be connected to the MBT350.

Includes TD-100 ThermoDrive Soldering Iron, SX-90 Sodr-X-Tractor Desoldering Handpiece and MT-100 MiniTweez Handpiece (IntelliHeat versions).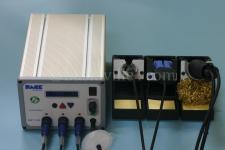 Related Products
MT100 Handpiece- Blue Din Plug (Intelliheat)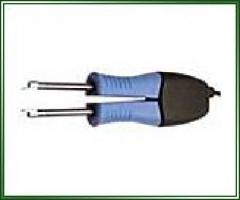 $387.45
ADD TO CART >
SX90 Desolder H/P Only-Blue Din Plug (Intelliheat)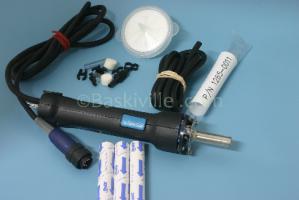 $650.03
ADD TO CART >
TD100 Solder H/P Kit - Blue Din Plug (Intelliheat)
$299.05
ADD TO CART >