Hand Soldering, Desoldering & Hot air
Pace, MBT301, 2 Channel Soldering & Desoldering Station, Handpieces & Spares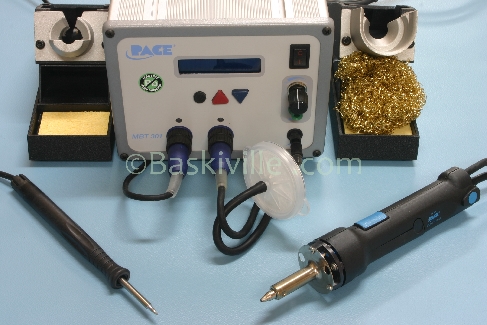 MBT301 Digital SensaTemp/TempWise Soldering/Desoldering Station.

PACE's first generation of "LEAD FREE" manufactured Products. Includes Tips sold separately

MBT301 - Simple and easy to use for rework technicians or operators on
the line.

The MBT301E is a multi-technology system with two individually controlled,
universal handpiece channels.

The programmable features include: password protection from unauthorised
changes, a user definable temperature operating range & "SetBack" &
"Auto Off" functions to preserve tip life.

The new dual purpose vacuum/pressure pump and delivery system featuring
PACE's patented SNAP-VAC Technology, provides the most vacuum
available for desoldering applications. When used with an air pencil,
the high resolution, pressure control valve allows for precise adjustment when
working on the smallest components such as 0201's.



To really protect your more expensive Tip-Heater Cartridge and fine point tips from oxidation, the TD-100 can be used with the new "Instant-SetBack Cubby".
The cubby puts irons channel into SetBack if it is in the cubby for more than 45 seconds! One Instant-SetBack Cubby can be connected to the MBT301.

Includes TD-100 Thermo-Drive Iron & SX-90 Sodr-X-Tractor.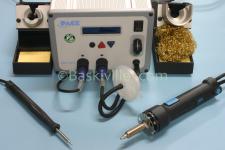 Related Products
MT100 Handpiece- Blue Din Plug (Intelliheat)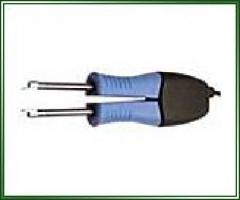 $387.45
ADD TO CART >
SX90 Desolder H/P Only-Blue Din Plug (Intelliheat)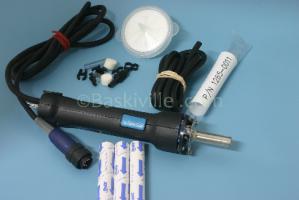 $650.03
ADD TO CART >
TD100 Solder H/P Kit - Blue Din Plug (Intelliheat)
$299.05
ADD TO CART >