Hand Soldering, Desoldering & Hot air
Pace ST30 soldering station, spares and handpieces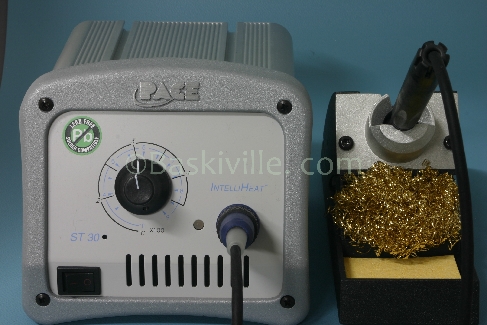 ST30 Soldering Station, Cubby, complete with free soldering tip worth $30.00

The ST 30 is a single channel system with dial control featuring IntelliHeat.
This system is packaged with the TD-100 ThermoDrive Soldering Iron and
can be used with any of 3 other optional handpieces. The optional Instant
SetBack Cubby is available for the TD-100 ThermoDrive Soldering Iron to
extend tip life, especially beneficial when Lead Free Solders are used. Cubby
P/N is 6019-0084-P1
Tips supplied separately, however we supply the unit with a 1124-0019-P1 tip.

The ST 30 improves quality, reduces costs and eliminates the maintenance
and calibration hassles associated with other systems.
The heavy-duty metal housing makes this system the ideal choice for the
harshest environments and the sloped face of the front panel is a standard
feature for ease of use. An optional mounting bracket (p/n 1321-0609-P1)
is available to mount the system under a workbench or shelf, preserving
precious bench top space.

-IntelliHeat Control Technology
-°C/°F Temperature Scales
-Temperature Adjustment Lockout
-ESD grounding jack
-ESD Safe metal housing
-Stackable
-Can be mounted under workbench or shelf with optional bracket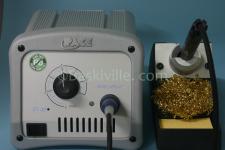 Related Products
MT100 Handpiece- Blue Din Plug (Intelliheat)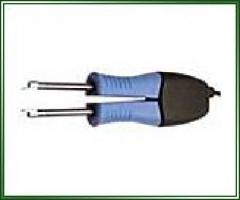 $387.45
ADD TO CART >
TD100 Solder H/P Kit - Blue Din Plug (Intelliheat)
$299.05
ADD TO CART >
PS90 H/P Kit - Blue Din Plug (Intelliheat)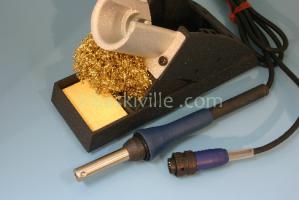 $308.23
ADD TO CART >