Hand Soldering, Desoldering & Hot air
Hakko FX801 High power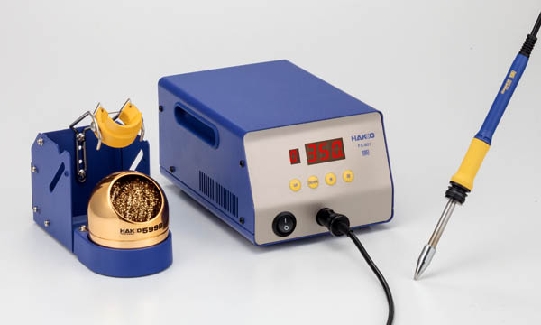 FX-801 can provide tremendous heating performance with super power 300 W
composite heater.


Up to 6 settings can be pre-set and easily called up by Up/Down buttons.

Large LED display

An LED display roughly double the size of a previous model is very easy to see.

Password function
Settings can be locked from unnecessary changes by password function.

Compact and lightweight (50 g) for heavy duty 300 W iron

The same weight as the iron part of FX-838, 150 W soldering station, for operator's
comfort and better workability.

Easy tip replacement
The composite tip makes tip replacement easy .
Auto Sleep/Auto Shut-off function
Safety design automatically enters sleep/shut-off function when iron
is placed in iron holder. The function automatically cools down tip
temperature and shut-off power when not in use for a certain period
of time.
Compatible with N2 System (Option)
Replacing an iron part (FX-8002) with an optional N2 iron part
(FX-8003), it enables use of N2 system.
'Appropriate option nozzle assemblies for each tip shape are necessary.

Free shipping in nz for online orders

Phone or online support
mon to fri 8AM to 5PM

40+ years in Business