Coats & Jackets
Groundable Static control coat with V neck and Cuff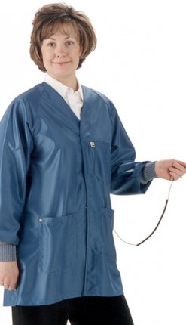 Medium weight IVX-400 Fabric garments are for protect your sensitive micro-electronic products from ESD (electrostatic discharge) generated by simple human movement
Style: Reinforced wide hem V-neck, with 3 pockets
Fabric Content: 93% texturized polyester and 7% Shakespeare Conductive Fibres, LLC Resistat® fibre (carbon-suffused monofilament nylon), knit in grid pattern
Will meet the requirements of the National ESD Association's ANSI/ESD STM 2.1-2013, Category 3

Grounding: ESD grid-knit cuffs and stainless snaps at the wearer's pocket to snap to a ground cord
Length: Knee-length
Colour: Royal Blue
Size: M
(Ground cord sold separately)
ESD grid-knit cuffs form a contact patch around both of the wearer's wrists
Garment and wearer are then both grounded by attaching a ground cord to the 4mm stainless steel snaps on either hip pocket
Will maintain performance characteristics for a minimum of 100 washes or 2 years, whichever comes first
Cool or warm water wash with any commercially-available liquid detergent, tumble dry low heat or hang dry.
DO NOT USE BLEACH OR FABRIC SOFTENERS.
The carbon-suffused mono-filament nylon is sensitive to heat and should not be exposed to drying heat in excess of 120°F.
Wash at 90°F (Maximum), and tumble dry at low heat or hang dry.
This medium weight fabric will dry very quickly, and we recommend hang-drying for maximum life.
Related Products
Desco Glove, Esd, Inspection,Medium, Pair
$13.57
ADD TO CART >
SCS Economy Heel Ground, 1 Meg Resistor, 610mm Ribbon, Yellow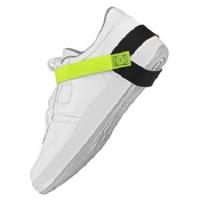 $15.75
ADD TO CART >
Techwear Econoshield ECX-500, Blue Mid-Thigh, Medium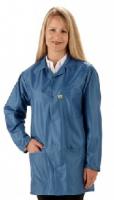 $76.79
ADD TO CART >