Coats & Jackets
Techwear Esd Polo Shirt, Black, Long Sleeve, Medium
Tech Wear static control garments protect your sensitive micro-electronic products from ESD (electrostatic discharge) generated by simple human movement during the manufacturing process..
The electrical qualities will withstand more than 40 launderings
Type: Polo Shirt Long Sleeve
Style: Comfortable long sleeve polo shirts with one breast pocket and the ESD symbol on the left sleeve. Also available in a Short Sleeve and Women's Styles.
Fabric Content: 48% poly/48% cotton with 4% carbon fibres.
Colour: Black
Size: Medium
This garment meets the requirements of ANSI/ESD STM2.1-2013, Category 1.
Related Products
Desco Wrist Strap Elastic Adjustable w/ 1.8m (6ft) Cord, 4mm Stud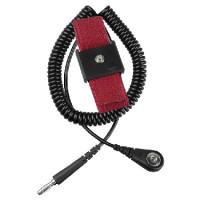 $30.04
ADD TO CART >
Desco Glove, Esd, Inspection,Medium, Pair
$13.57
ADD TO CART >