Solder Pots & Spares
Hakko FX301 solder pot and spares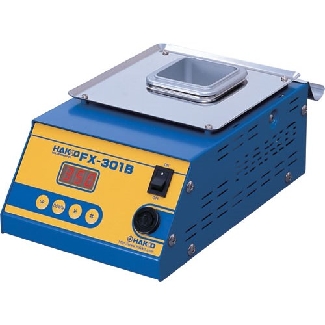 Hakko Solder Pot FX301B-14

Hakko Solder Pot for Leaded Solders.
To make lead free compatible, a optional specially coated pot can be added.

Digital display ensures reliable temperature control and realizes precise temperature adjustment.

·High-temperature specifications with a maximum temperature of 450 °C (when using 50mm x 50mm soldering pot)
·Start-up time is reduced by 10 minutes or more compared to conventional analogue soldering pot (HAKKO 96).
-Temperature is adjustable even during work.
·Temperature range: 200 - 450°C
-Temperature stability: +/- 5°C
- Four pre-programmed temperature settings
-The pot can be easily replaced by just loosening a screw. One unit can be used for various applications by changing pots
for each solder type or by using pots of different sizes (50mm x 50mm or 75mm x 75mm square).

Special Coating Solder Pot:
The special coating is for getting a long life by preventing the corrosion of the solder pot. We confirmed that the special
coating solder pot had five times longer life than the standard one by our anti-corrosion test. It effects on both lead-free
solder and solder with lead (eutectic).
*Because the anti-corrosion test was done by our way, longevity of solder pot may be different according to the usage
condition.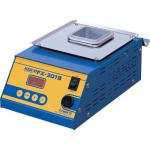 Free shipping in nz for online orders

Phone or online support
mon to fri 8AM to 5PM

40+ years in Business