Static charge Measurement
Features And Benefits Fraser 715 Static Meter

Shows where and how static is generated, its magnitude and polarity
Monitors the effective...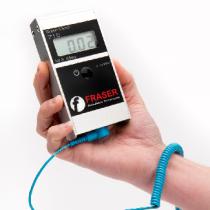 Features And Benefits Fraser FRAEX715 Static Meter

Certified to Measure Static in Hazardous Areas

The FRAEX715 Static Meter has been d...
Electrostatic Field Meter, QUICK431


Features
1. Four working modes available.
2. Two measuring functions: a) Static measurement: b) I...
Page 1 of 1

Orders being 
Dispatched.

40+ years in Business
Shop on line