Hand Soldering, Desoldering & Hot air
ST70 Stations and power modules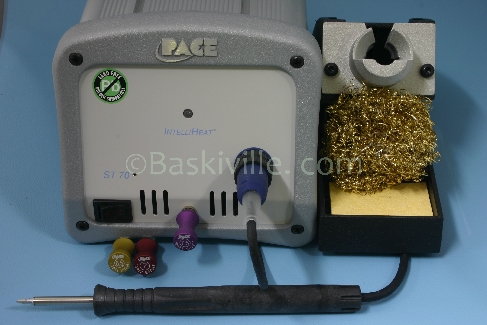 ST70, complete with TD100 handpiece and cubby, and free soldering tip worth $30.00

The ST 70 is a single channel IntelliHeat power supply that is controlled
by POWER MODULES. This system is packaged with the TD-100
ThermoDrive Soldering Iron and can be used with any of 3 other optional
handpieces. The optional Instant SetBack Cubby is available for the TD-100
ThermoDrive Soldering Iron to extend tip life, especially beneficial when
Lead Free Solders are used. P/N 6019-0084-P1.
Tips supplied separately but unit comes Std with a
1124-0019 1/16 chisel tip.
The ST 70 is the easiest to operate. Simply select the performance level
you desire, plug in the appropriate Power Module and the system takes care
of the rest! The ST 70 improves quality, reduces costs while protecting your
process. The heavy-duty metal housing makes this system the ideal choice
for the harshest environments and the sloped face of the front panel is a
standard feature for ease of use. An optional mounting bracket
(p/n 1321-0609-P1) is available to mount the system under a workbench
or shelf, preserving precious bench top space.
IntelliHeat Control Technology
Performance level lockout (if Power Module is removed the system is shut down)
ESD grounding jack
ESD Safe metal housing
Stackable
Supplied with 6.5, 7 & 7.5 Power Modules
Can be mounted under workbench or shelf with optional bracket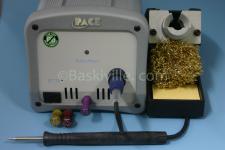 Related Products
MT100 Handpiece- Blue Din Plug (Intelliheat)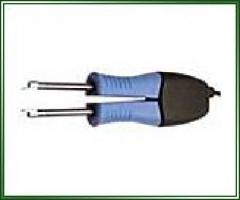 $387.45
ADD TO CART >
TD100 Solder H/P Kit - Blue Din Plug (Intelliheat)
$299.05
ADD TO CART >
PS90 H/P Kit - Blue Din Plug (Intelliheat)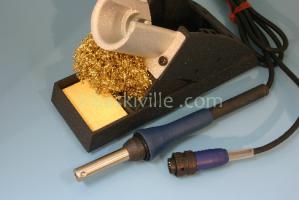 $308.23
ADD TO CART >