Hand Soldering, Desoldering & Hot air
Hakko, FR802, Hot Air Station , Nozzles & Spares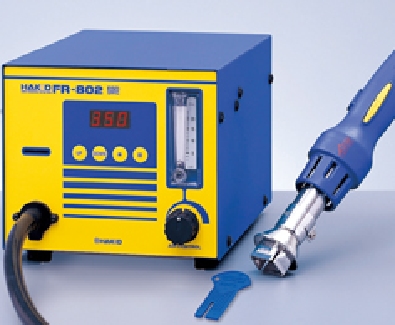 Hot air rework system with digital temperature display realizes easier temperature control
Digital offset function enables the offset of variations in temperature between workpieces
Automatic cool-down function initiates the automatic cooling when the power to the heater is shut off

Features

Enables to set High Temperature and greater increase in power (MAX Temp. 500°C/930°F)*
*The temperature of hot air varies with the nozzle shapes, measuring points etc..

Digital display.
· Easy to control the Hot Air Temperature visually.

For lead-free solder
· Consistent hot air and accurate temperature control enable lead-free operation.

Featuring offset function

Temperature control with sensor-feedback system

Automatic cool-down function
· To avoid the heater damage, the cooling begins automatically when the power to the heater is shut off. The air stops blowing as soon as
the temperature reaches 100 degrees.

Power-saving function
· The power save function automatically turns off the hot air when it has blown continuously for a specified amount of time in manual mode.
Power to the heater is turned off and then the air is stopped. (Selectable from 30 min/60min/Infinite)

Lock out key controlled.
· Pre-set temperature can be locked with the control card.

Outlet nozzle featuring new mechanism
· Consistent temperature of hot air is allowed by new mechanism.

Featuring airflow meter
· Easy to control the airflow volume visually.

Compact design

ESD safe by design

Controlling the temperatures of Hot Air Rework System and workpiece using the Temperature Probe.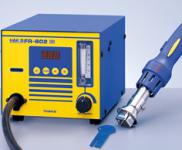 Related Products
Hakko 12mm x 12mm BGA Nozzle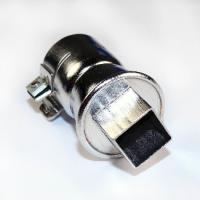 $0.00
ADD TO CART >