Coats & Jackets
EconoShield garment with lapel style collar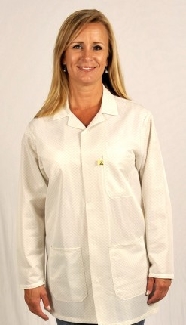 ECX-500 fabric lightweight fabric garments are for protect your sensitive micro-electronic products from ESD (electrostatic discharge) generated by simple human movement
Style: Lapel-style collar, with 3 pockets
Fabric Content: 98% polyester and 2% Shakespeare Conductive Fibres, LLC Resistat® fibre
Will meet the requirements of the National ESD Association's ANSI/ESD STM 2.1-2013, Category 2
Length: Three-Quarter (mid-thigh)
Colour: White
Size: M
Under normal wearing and recommended washing conditions,
Tech Wear garments made of ECX-500 material should maintain their usefulness and effectiveness nearly as long as our guaranteed OFX-100 and IVX-400 garments.
Cold or cool wash with commercially-available liquid laundry detergent (ie: liquid Tide, liquid Lemon Dash, liquid Cheer, Oxydol, etc.)
DO NOT USE LIQUID FABRIC SOFTENERS or laundry detergents which contain added fabric softeners or bleach.
Hang dry or tumble dry at lowest temperature setting.
Garment will dry very quickly.
Do not allow garment to be exposed to dryer heat longer than necessary to dry garment.

NEVER USE BLEACH OR FABRIC SOFTENER. FOR MAXIMUM GARMENT LIFE, HANG DRYING IS RECOMMENDED.
Related Products
Desco Wrist Strap Elastic Adjustable w/ 1.8m (6ft) Cord, 4mm Stud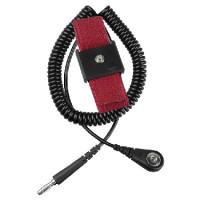 $30.04
ADD TO CART >
Desco Glove, Esd, Inspection,Medium, Pair
$13.57
ADD TO CART >
Techwear Econoshield ECX-500, Blue Mid-Thigh, Medium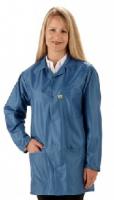 $76.79
ADD TO CART >